Amazfit GTR 3 Pro Smart Watch For Android & Apple iPhone Black/Brown
Product Highlights
LIBERATE YOUR HANDS WITH ALEXA】Easily set an alarm, ask a question, get a translation and more with built-in Alexa. If you don't have internet access, the smart watch also has an offline voice assistant for you to perform operations like engaging a sports mode or opening a health metric feature.

【CLEAR & EASY-TO-READ ULTRA HD AMOLED DISPLAY】With unprecedented visual clarity that reaches 331 ppi, the large 1.45-inch screen of the Amazfit GTR 3 Pro shows you exactly what you want, when you want it, and is visible even under bright sunlight. The ultra HD AMOLED display boasts a 70.6% screen-to-body ratio, which is among the highest for round smartwatches that are currently available.

【HIGH PRECISION GPS and 5 ATM WATER RESISTANCE】The Amazfit GTR 3 Pro sports watch has a built-in barometric altimeter to help keep an eye on the altitude and air pressure of your outdoor activities and supports GPS, GLONASS, Galileo, BDS and QZSS satellite navigation systems to accurately track your route. And it also has achieved a water-resistance grade of 5 ATM, so you can enjoy the sea or take a dip in a pool without worry.

【YOUR FITNESS PARTNER with 150+ SPORTS MODES】Whether you're a team player or prefer the focus of working out by yourself, the Amazfit GTR 3 Pro sports watch is the ultimate easy-to-use smartwatch. With over 150 built-in sports modes to suit your choice of activity, the watch can track metrics like heart rate, calories burned, and more.

【12-DAY BATTERY LIFE THAT WON'T LET YOU DOWN】If you're packing for a business trip, save space in your case and leave the Amazfit GTR 3 Pro's charger at home without worrying about the battery running out. The smartwatch features an extensive list of super-powerful features into its slim and light body, and yet still has enough endurance to last for up to 12 days from a single full-charge with typical usage.

【TEST FOUR HEALTH METRICS IN ONE TAP】With the Amazfit GTR 3 Pro fitness watch you can test your heart rate, blood oxygen saturation, stress level and breathing rate in a single tap of the watch and get a result in as little as 45 seconds. To easily understand your condition without cycling through individual apps, quickly get the data you need in one tap and then get on with your day.

【LISTEN TO YOUR MUSIC & RECEIVE BLUETOOTH CALLS】When you're out for a walk, working out, or seeing friends, you can leave your phone in your pocket. Through Bluetooth connection to your phone, the Amazfit GTR 3 Pro smart watch can receive phone calls, and also be used to easily control the music on your phone. You can even store up to 470 songs on the watch for independent music playback.

Bluetooth Calling: Yes
Description
Amazfit GTR 3 Pro Smart Watch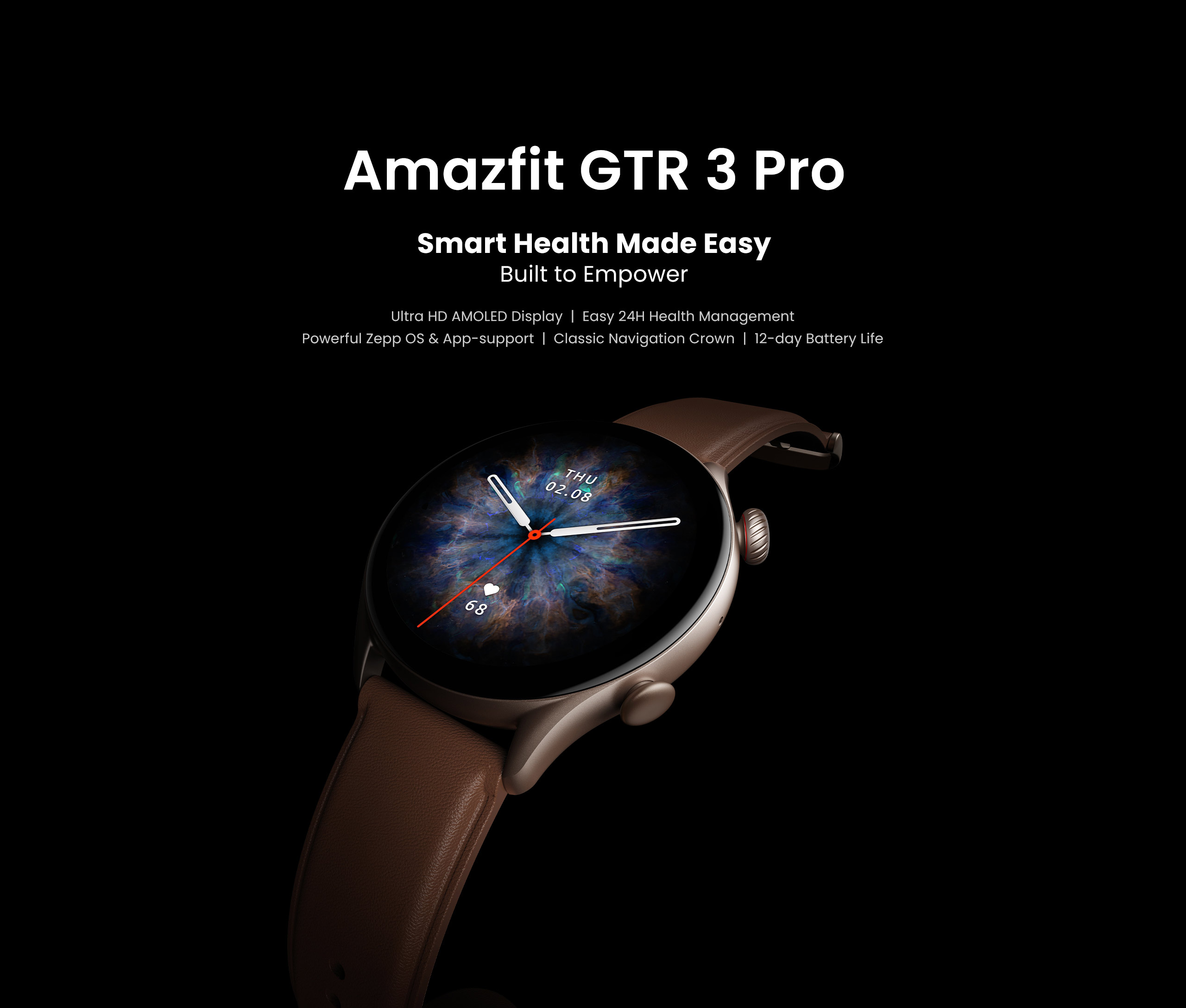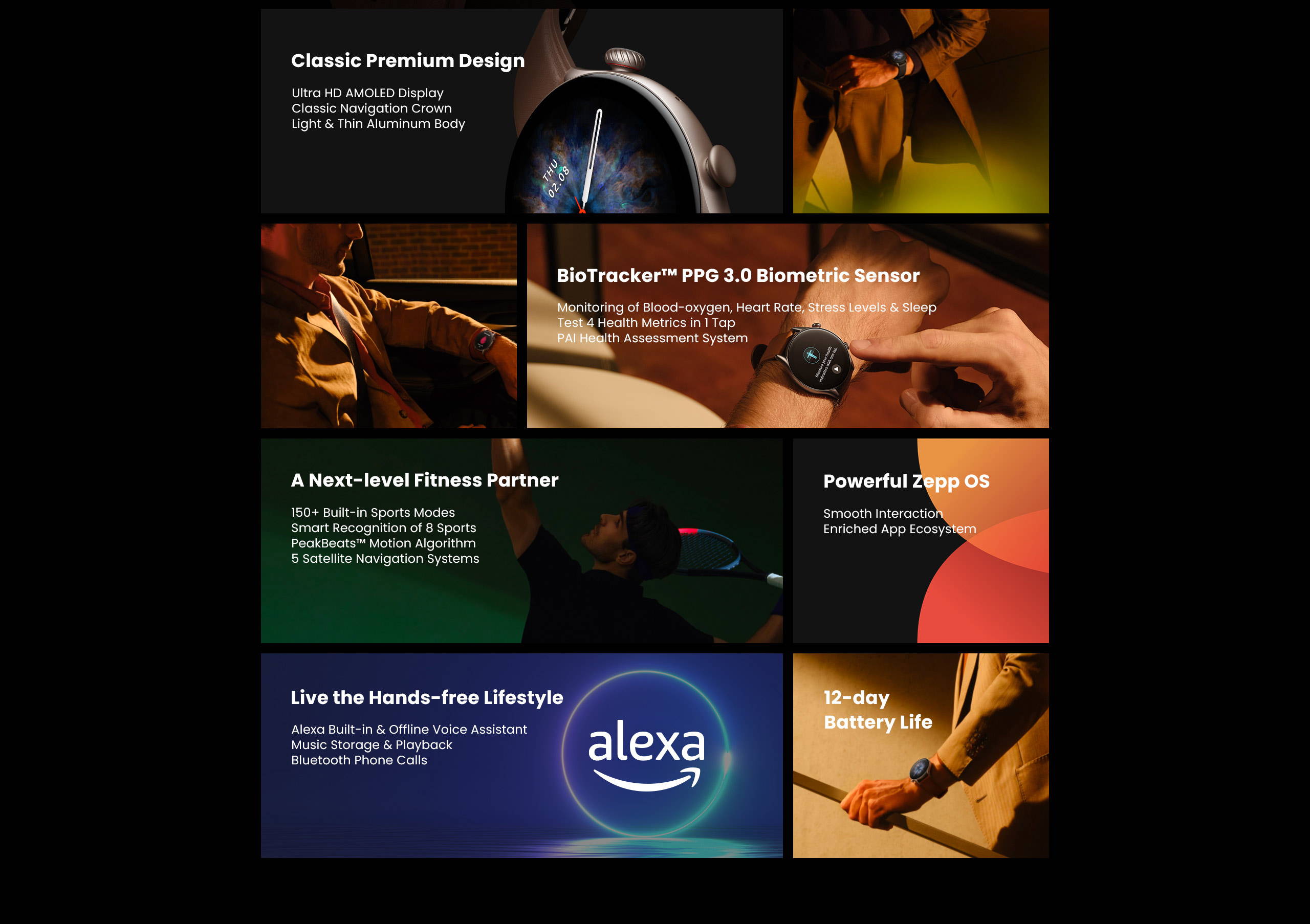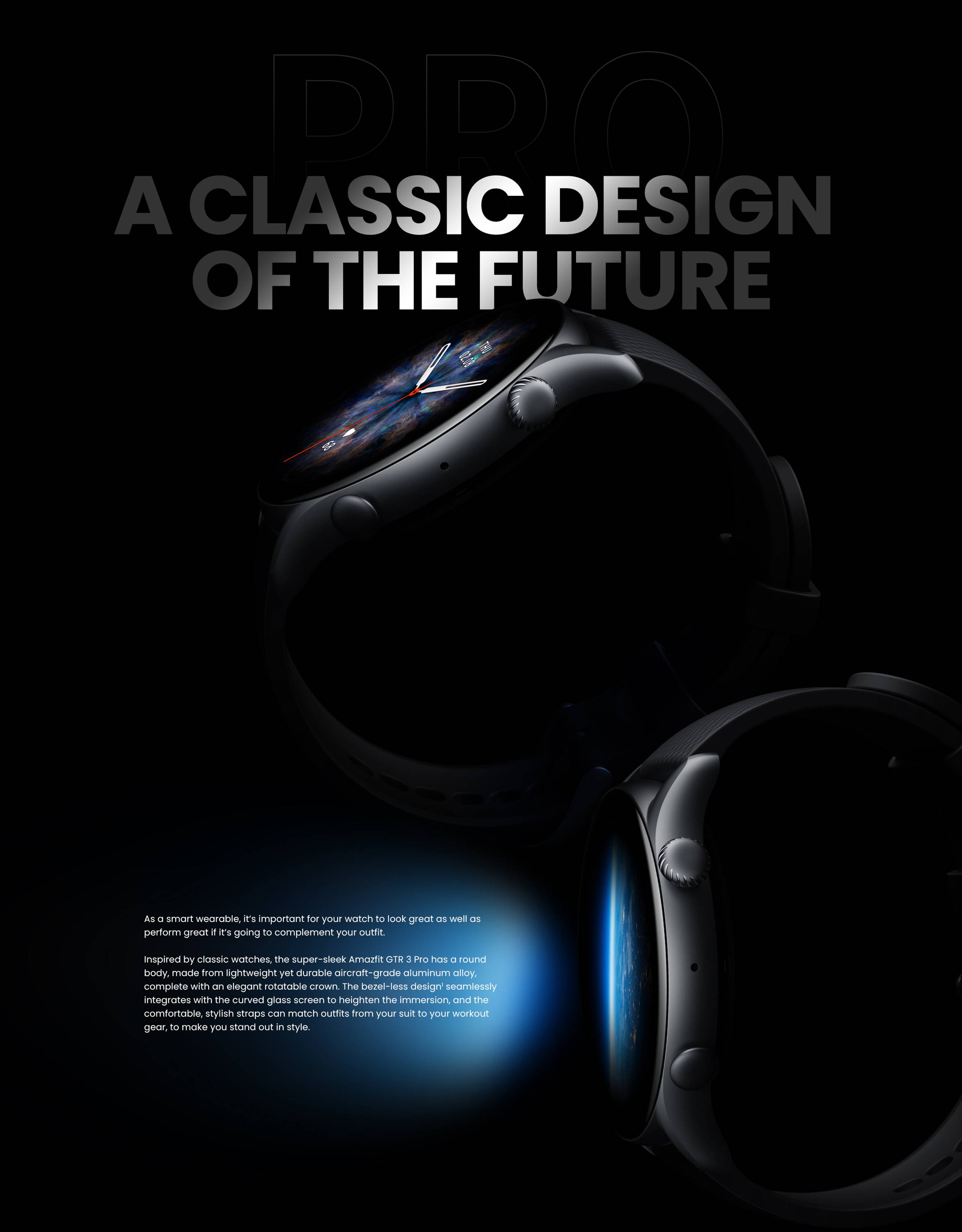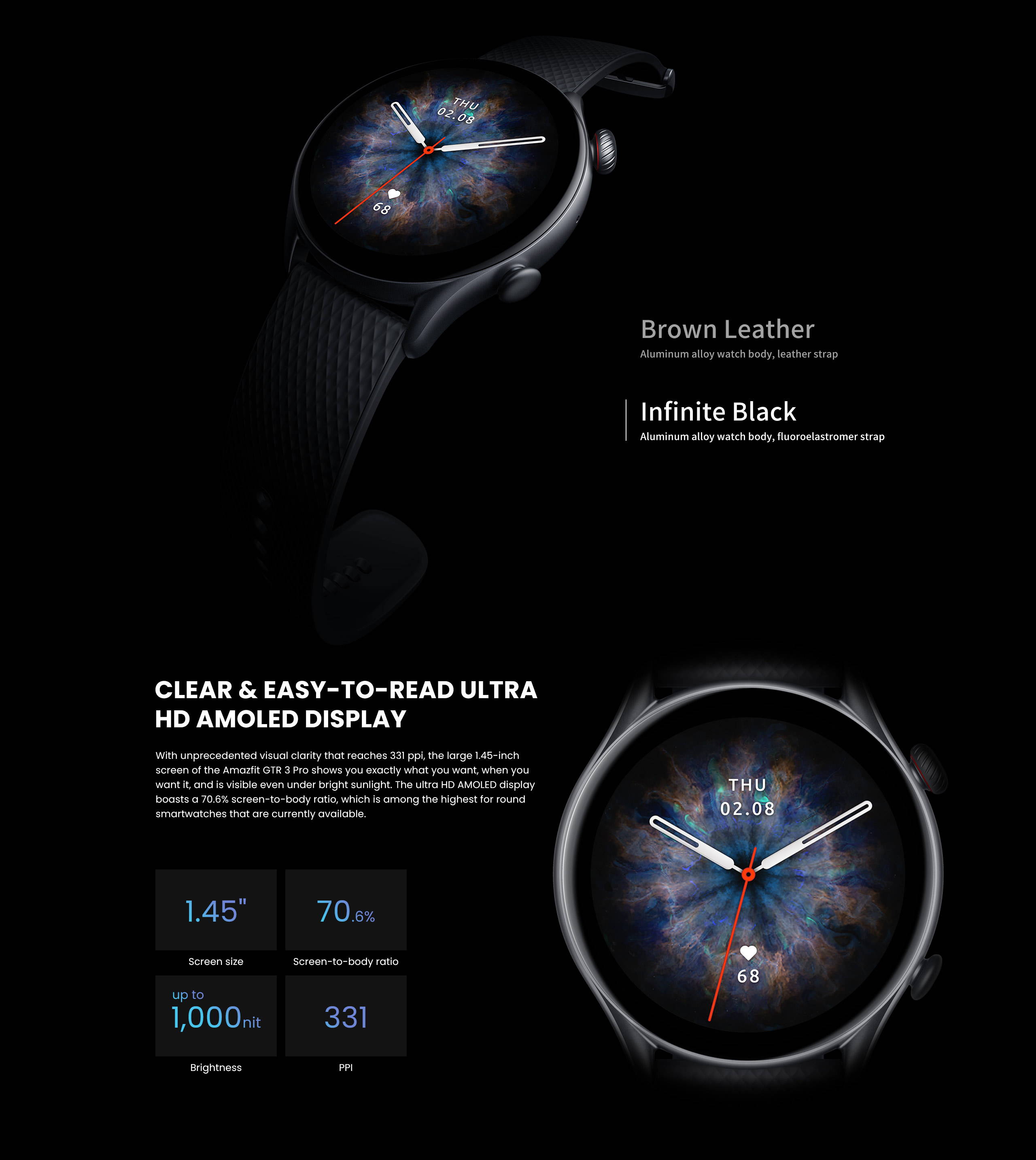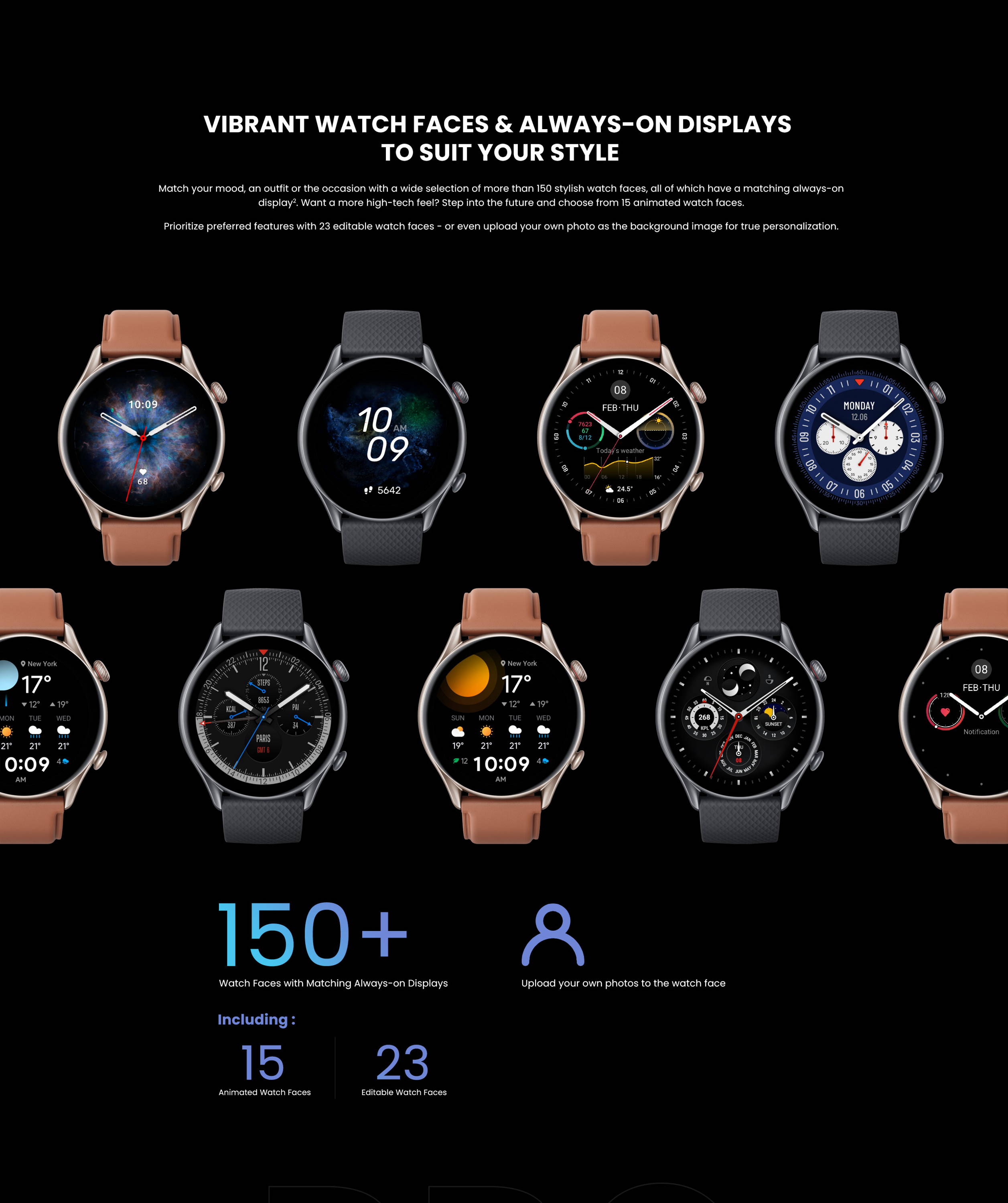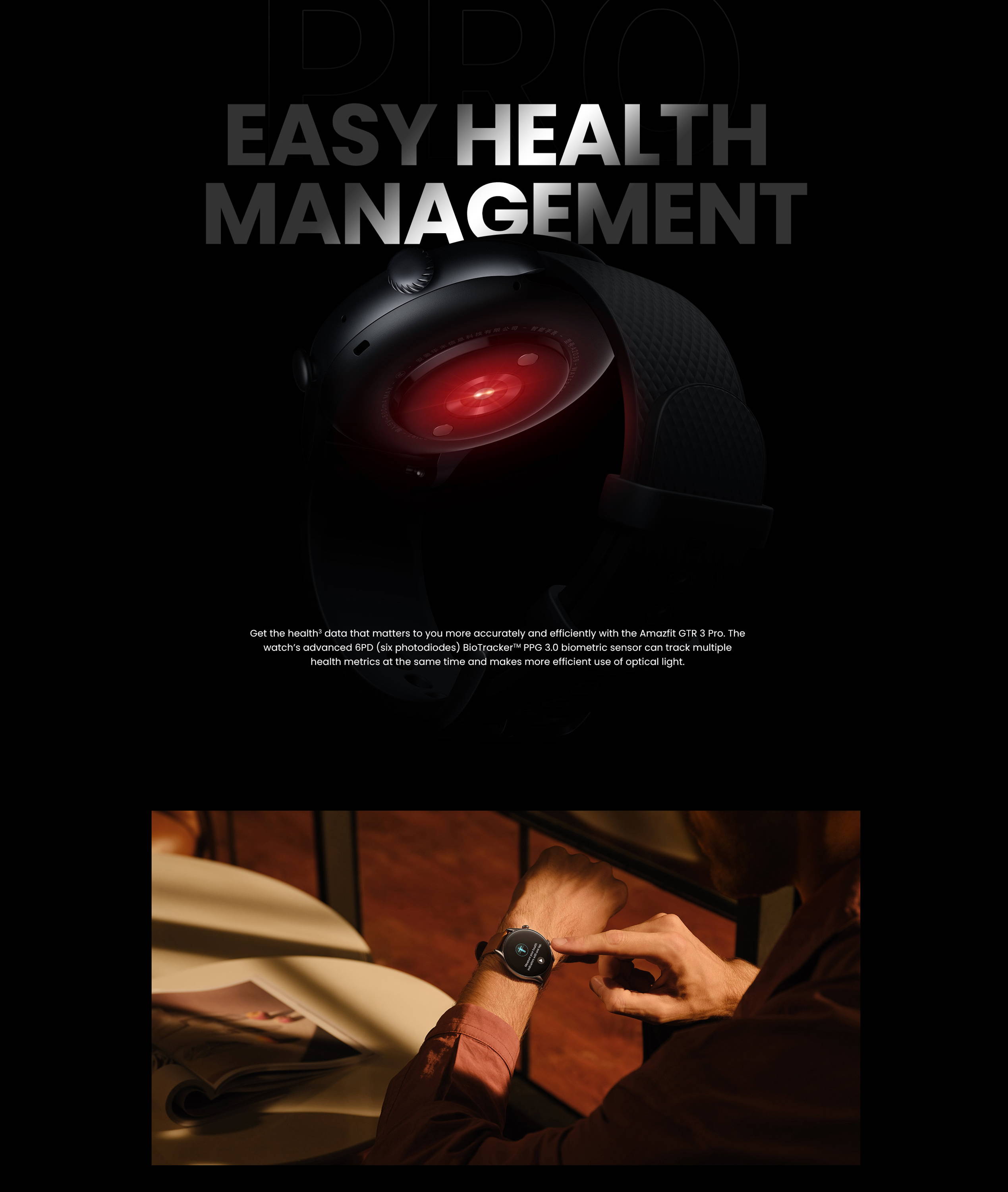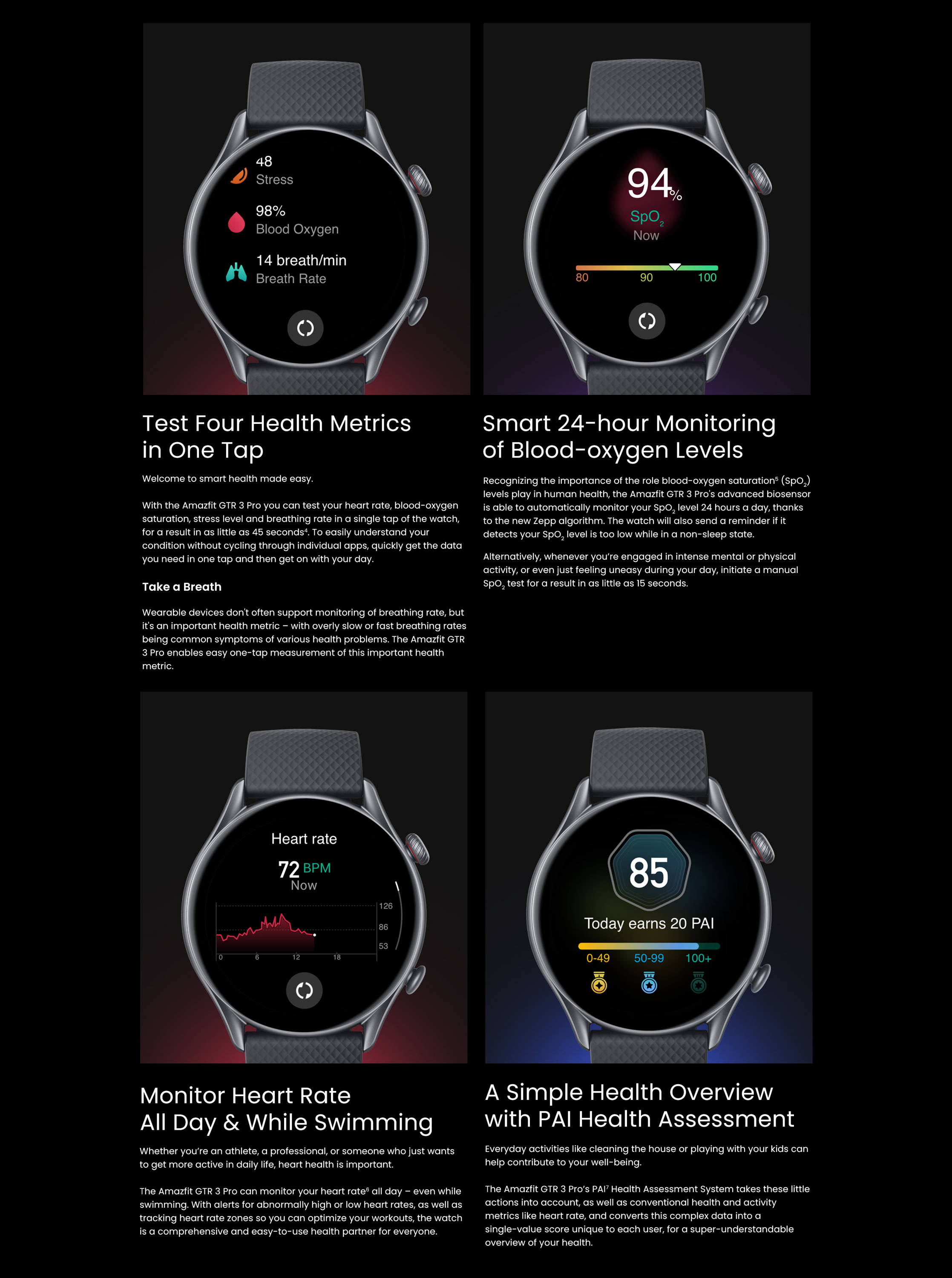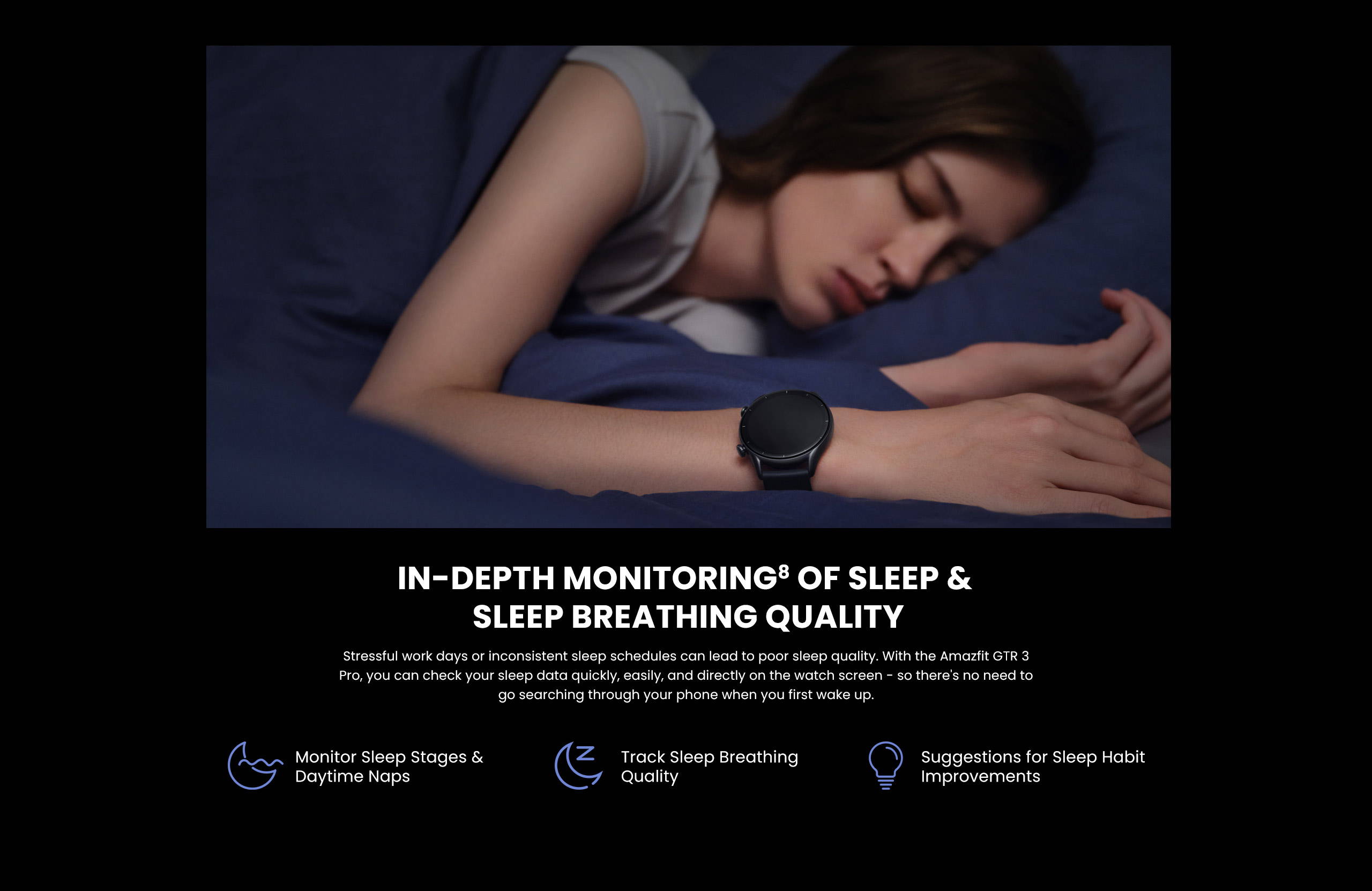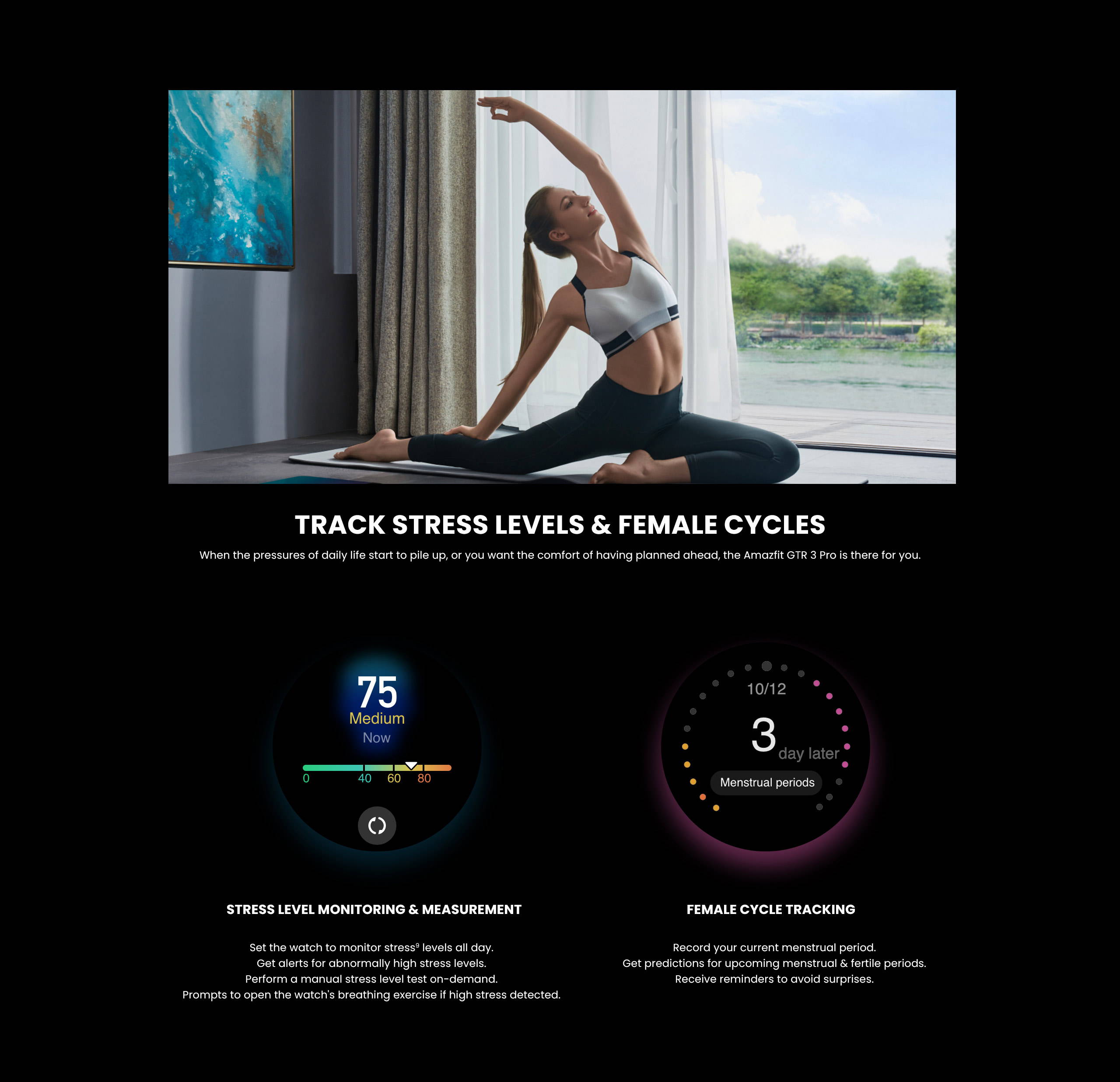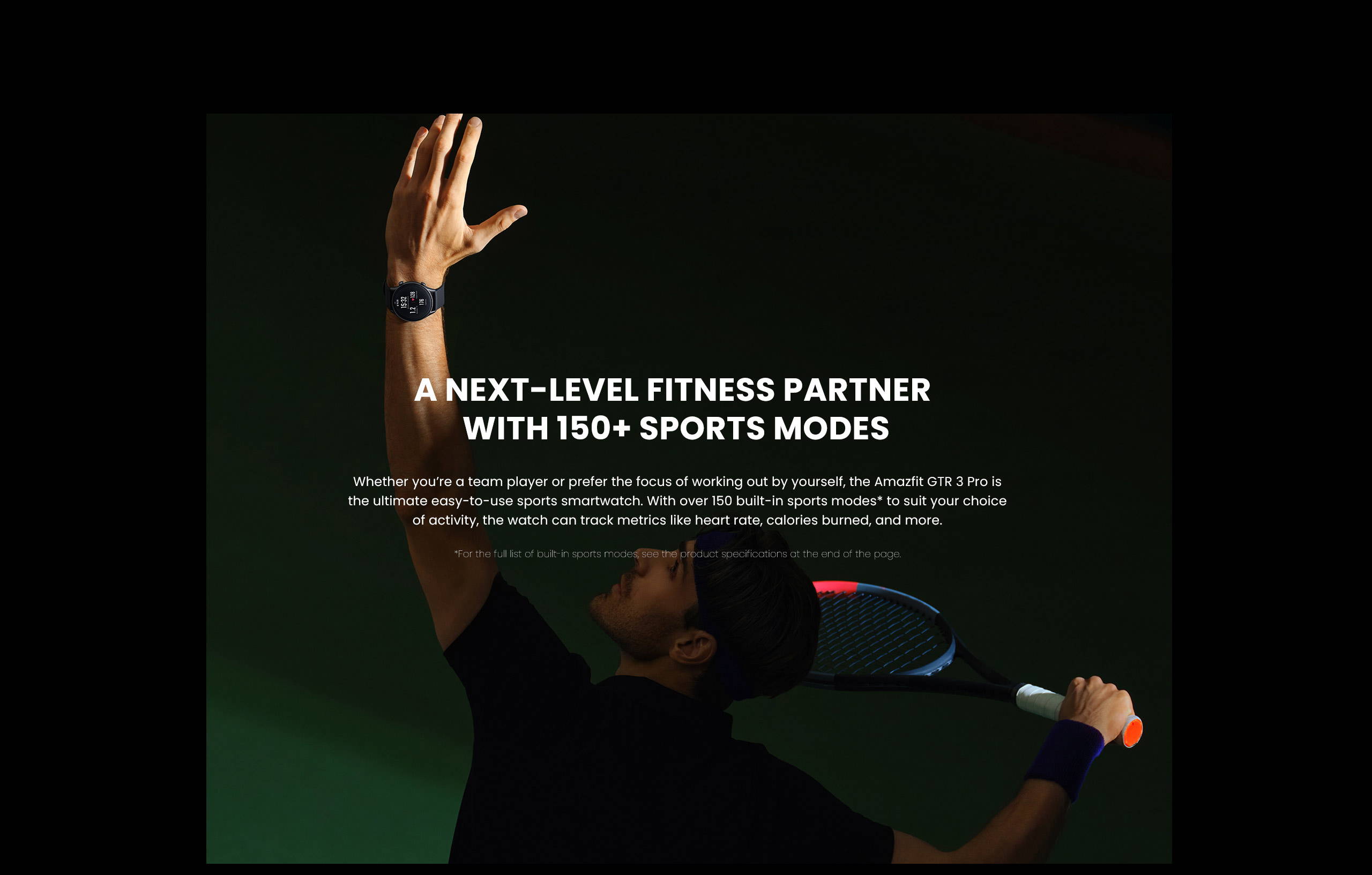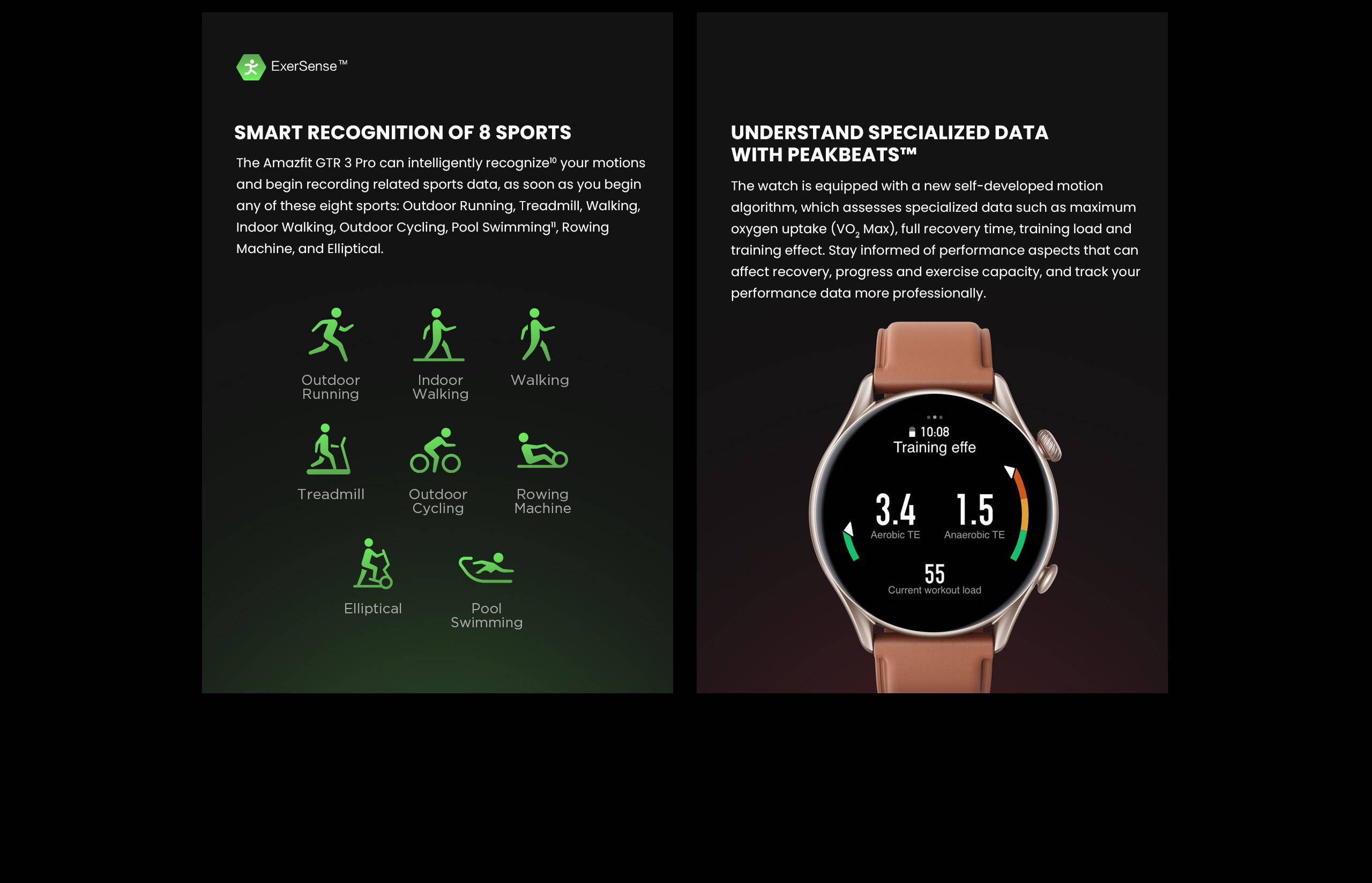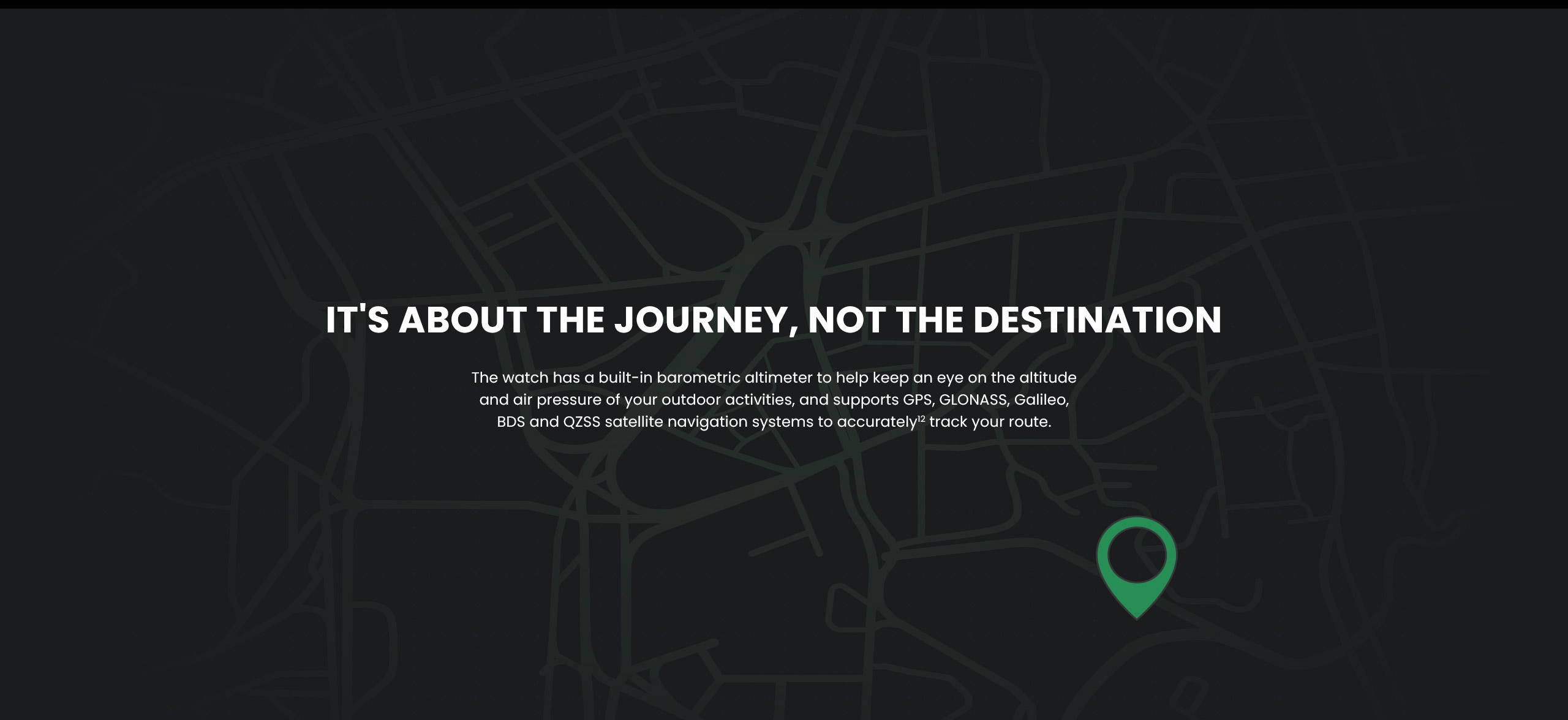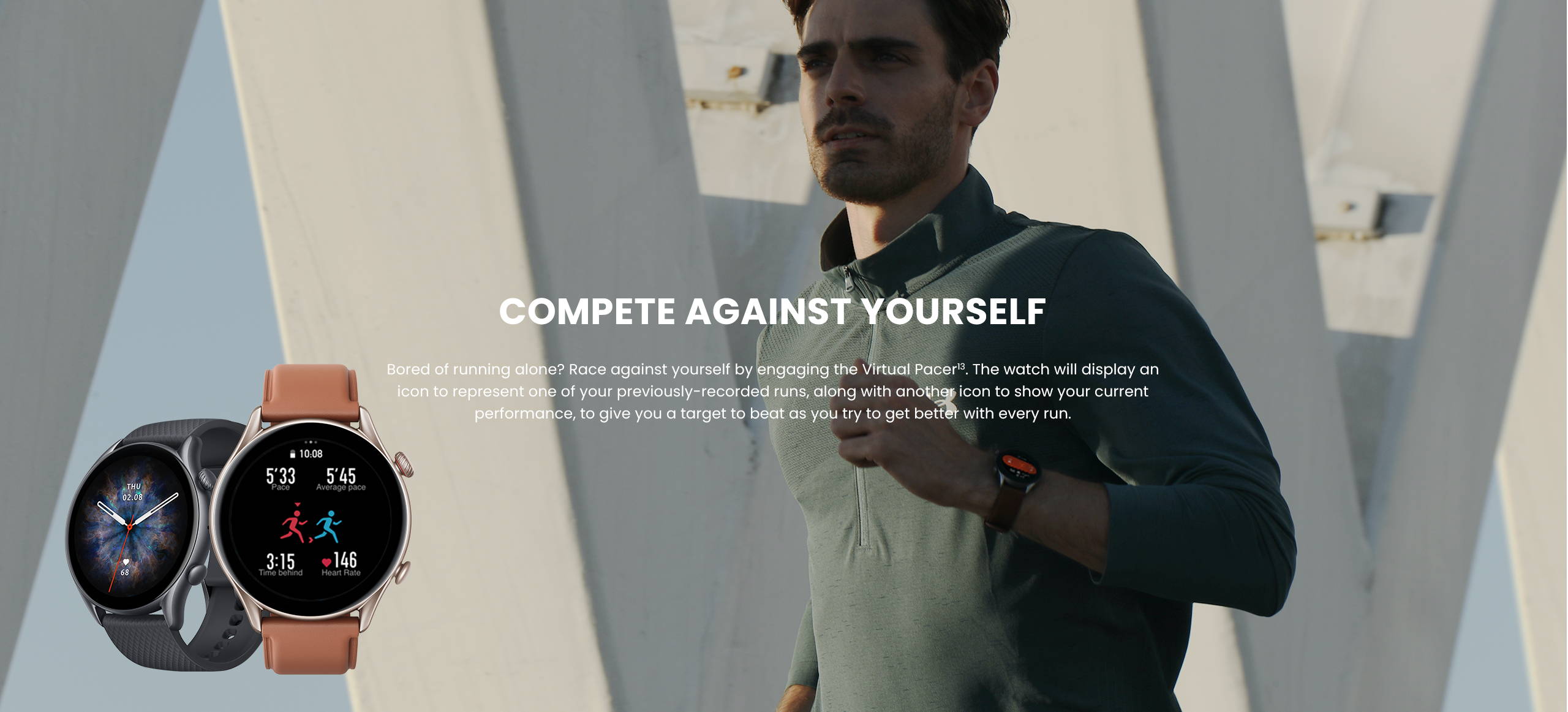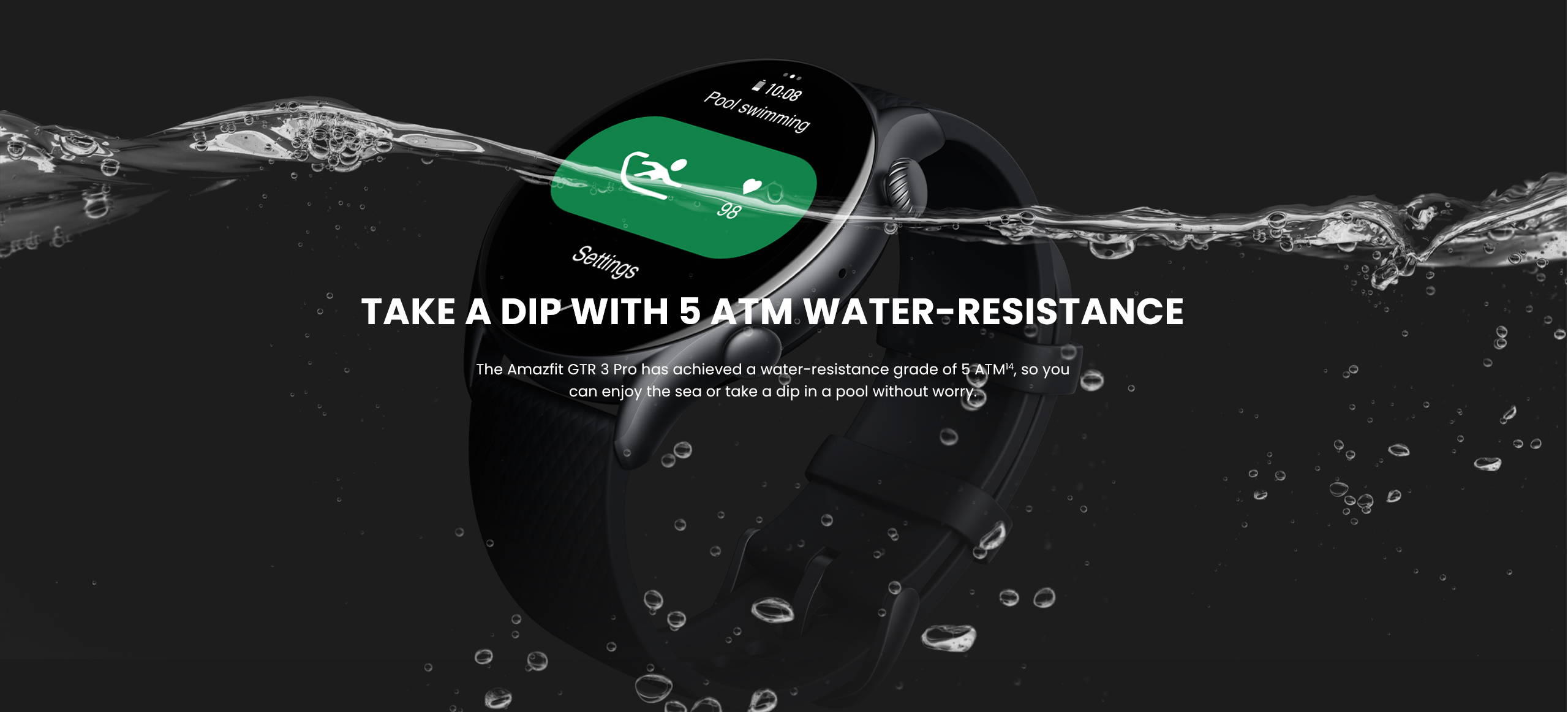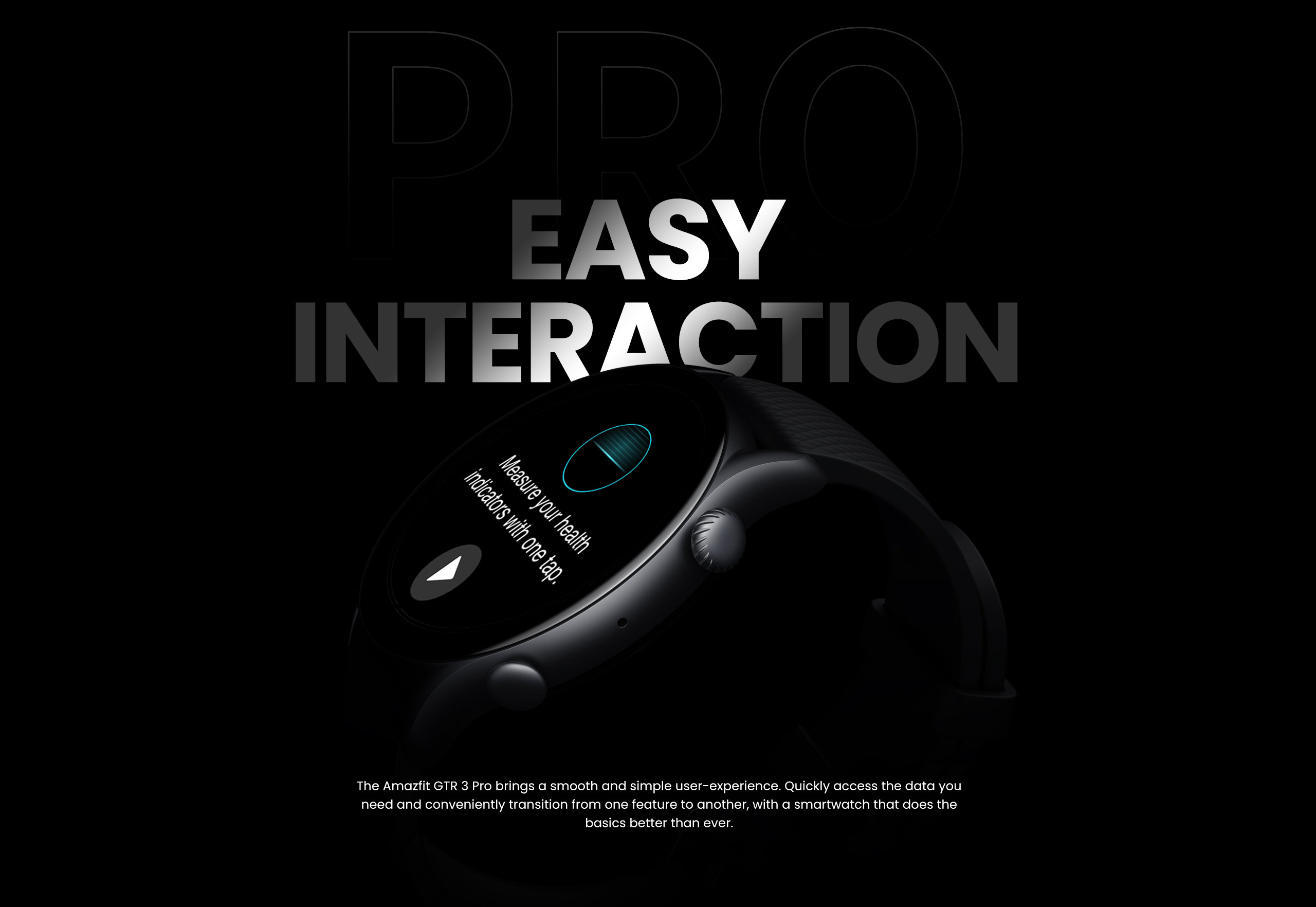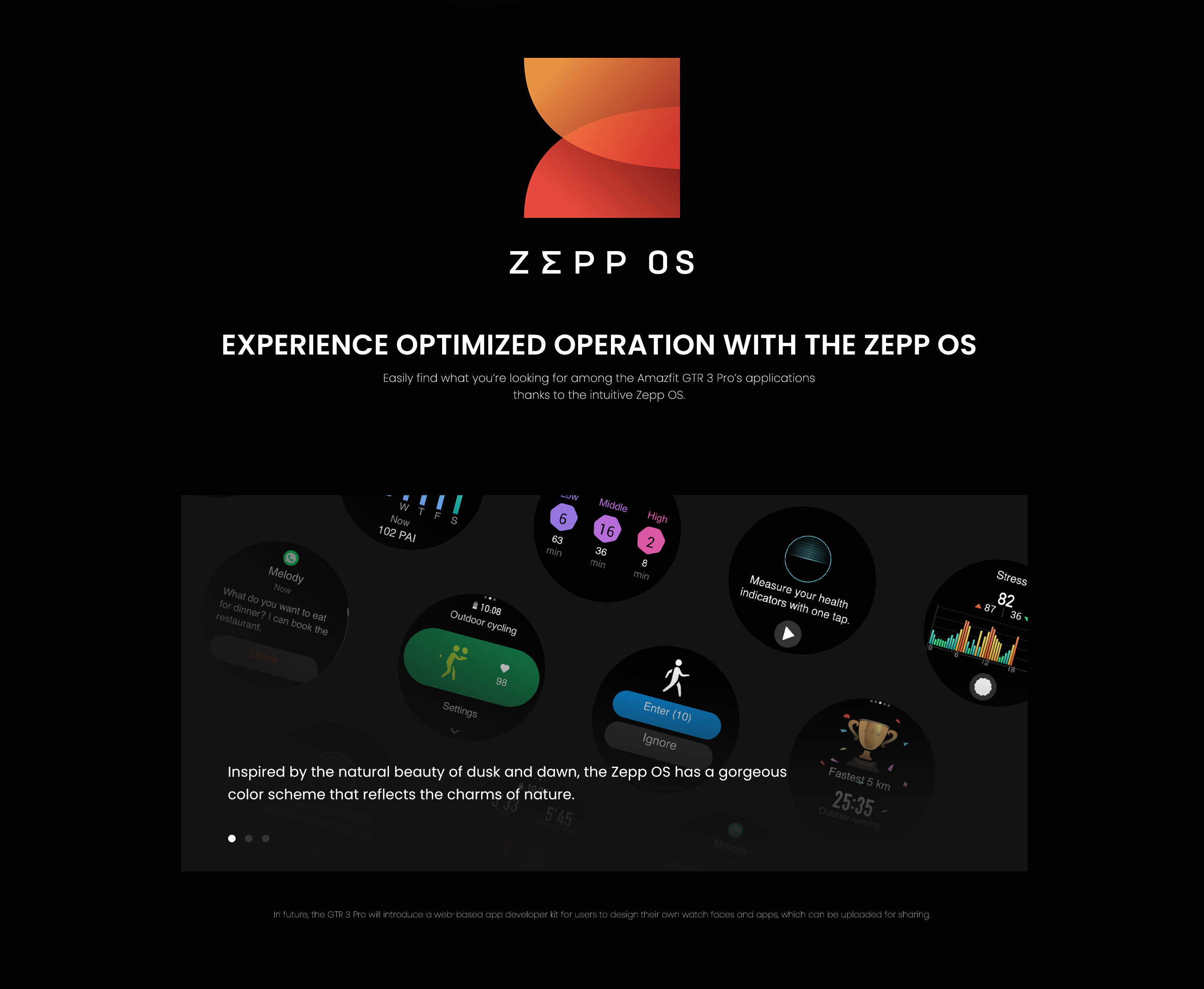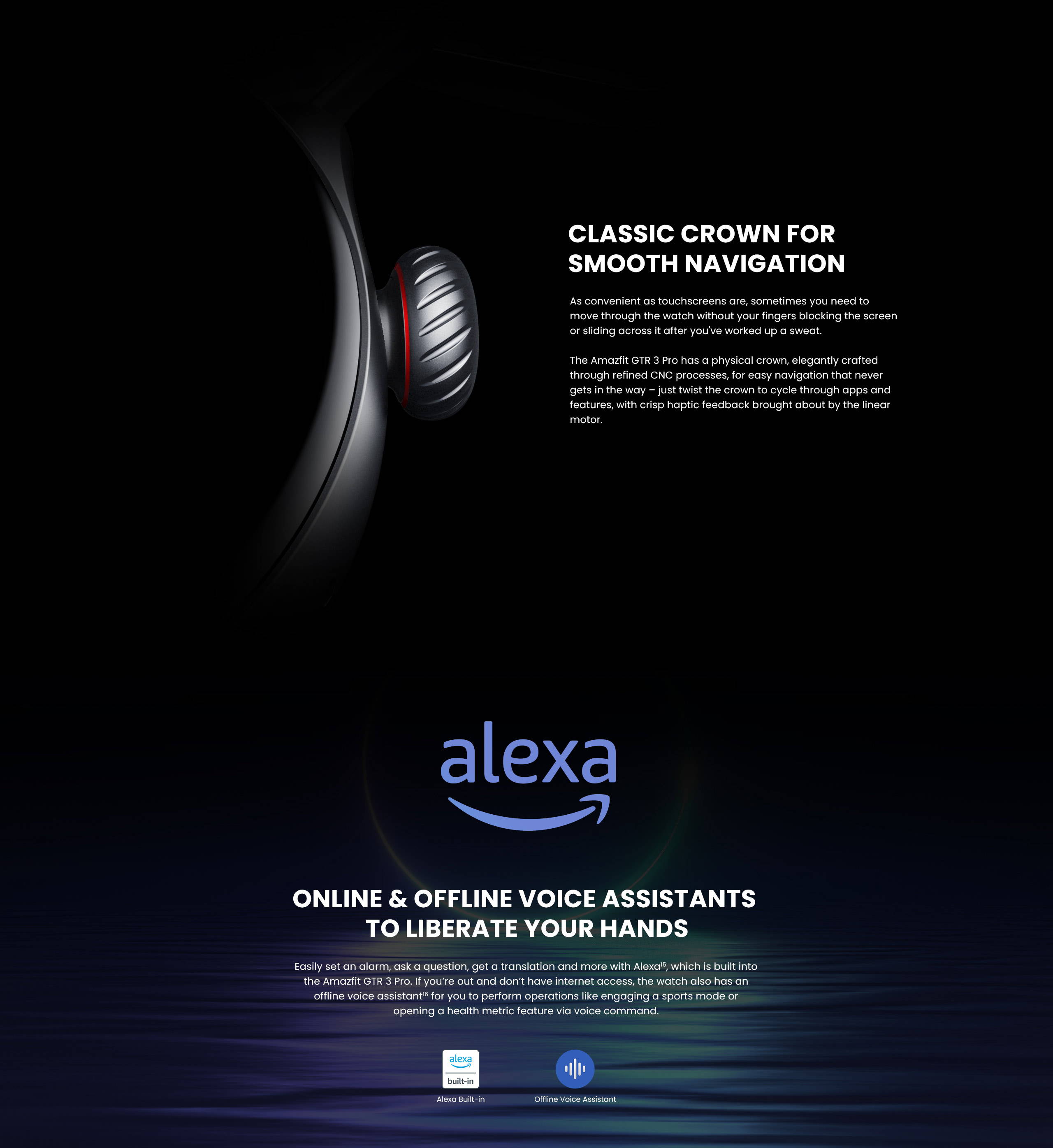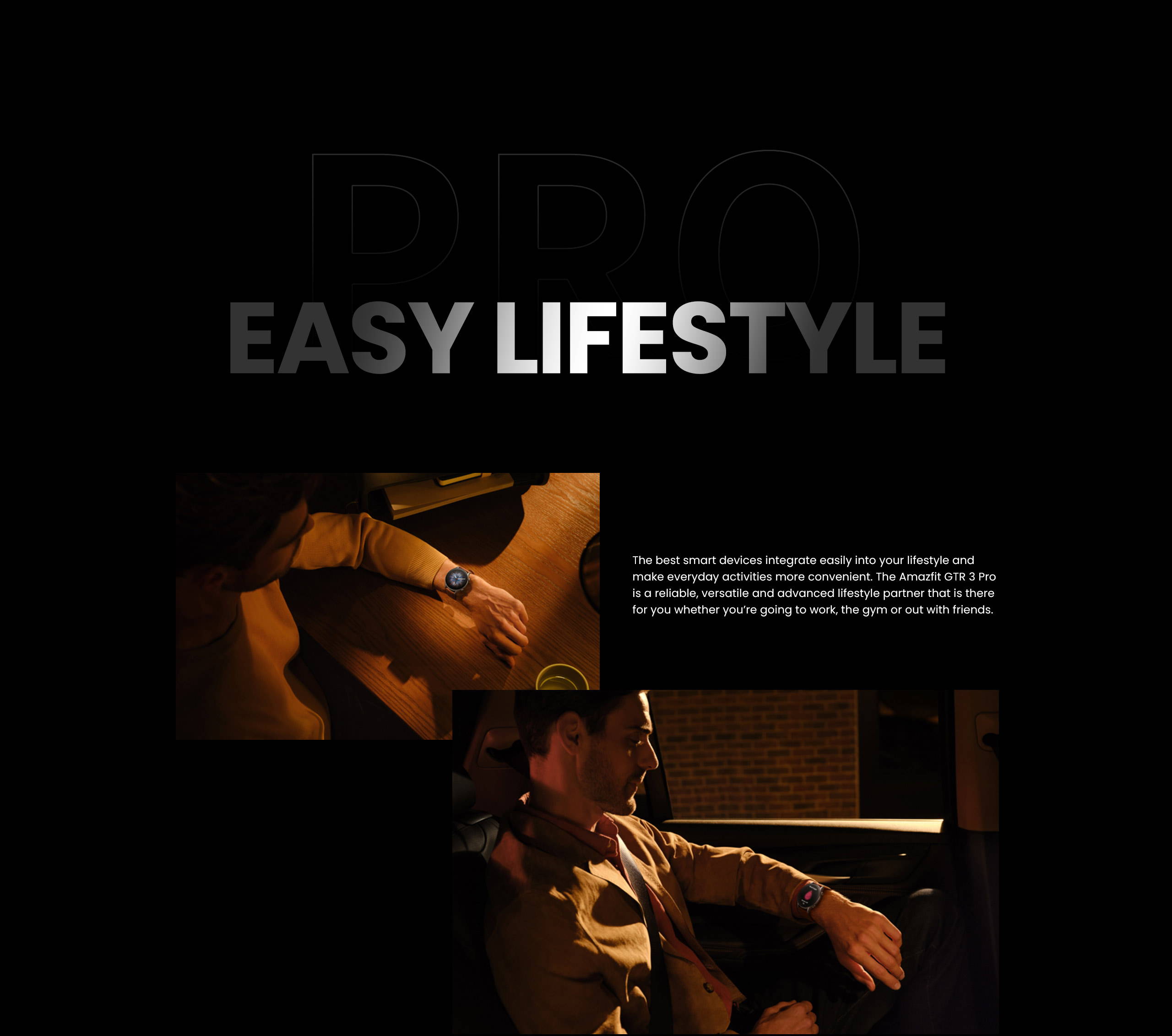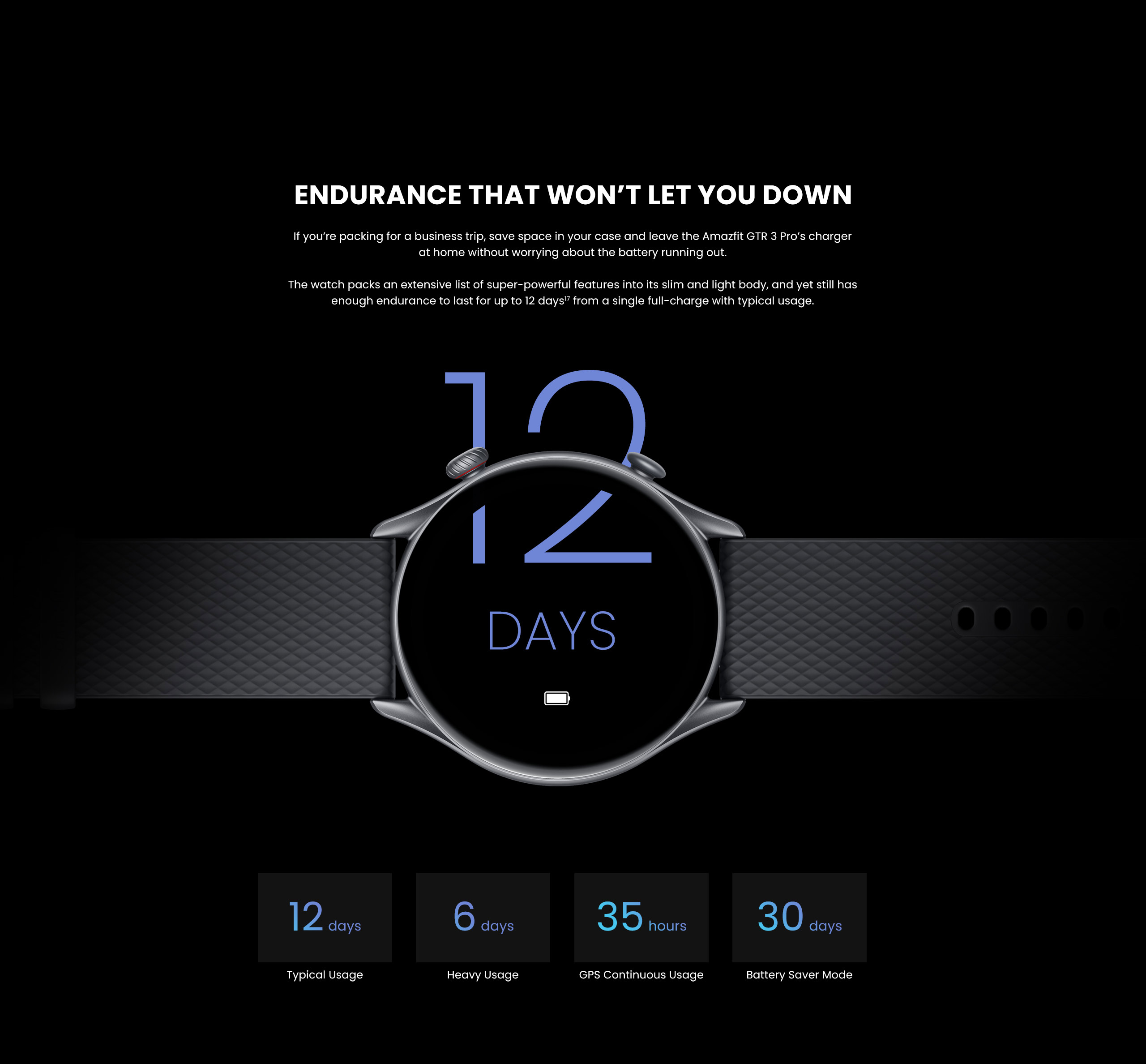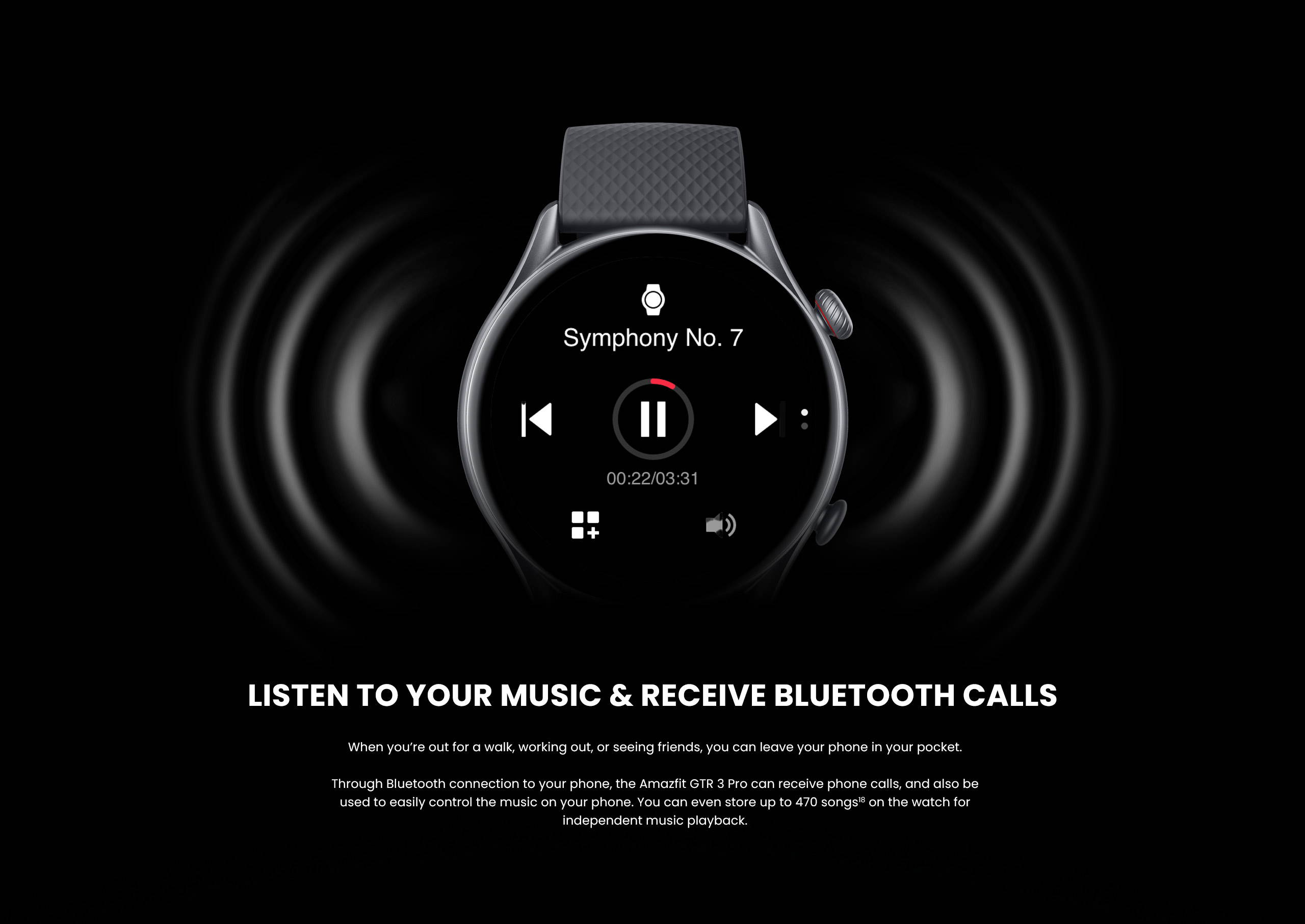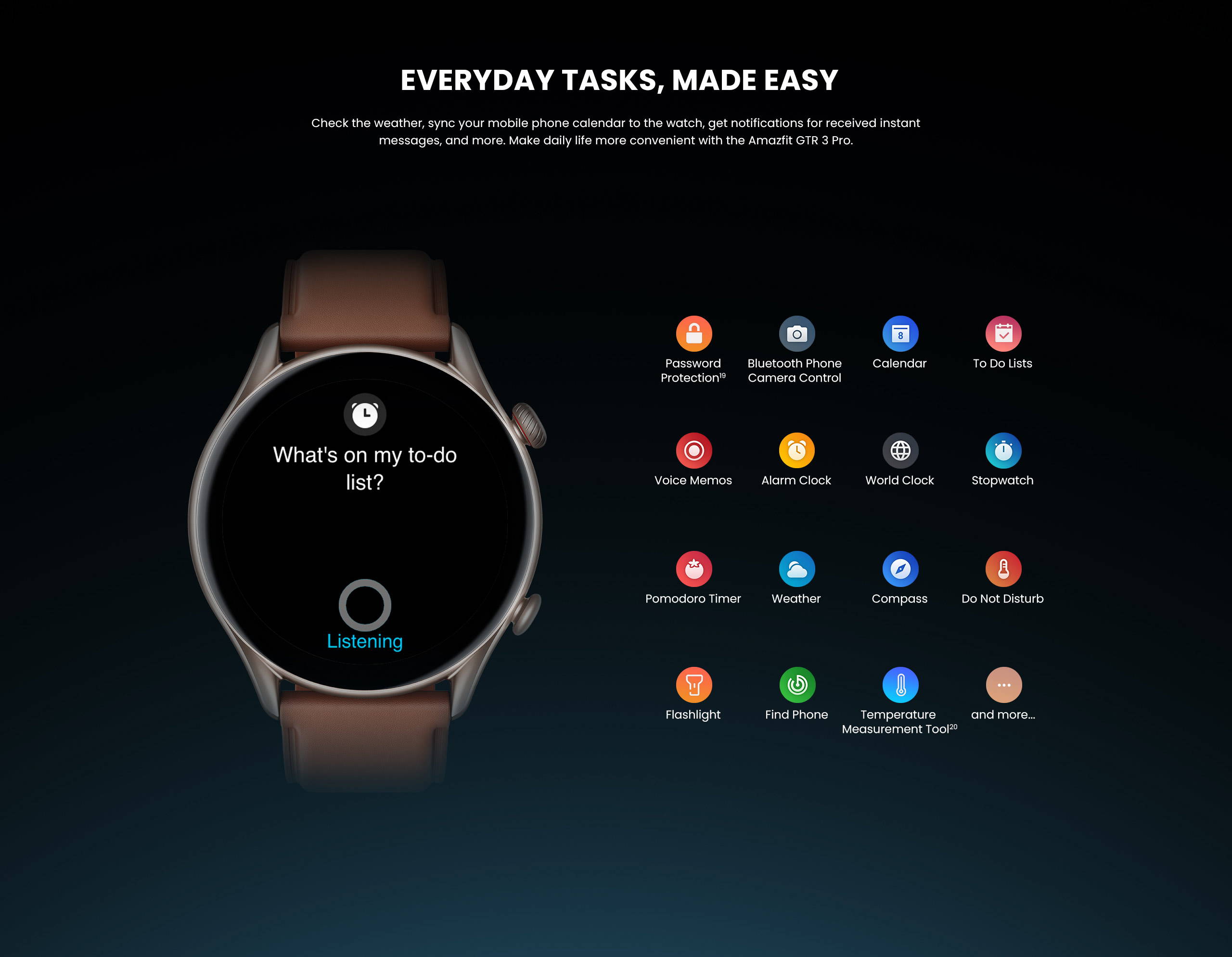 Alexa and Offline Voice Assistant

Easily set an alarm, check the weather, get a translation and more with Alexa, which is built into the Amazfit GTR 3 Pro smart watch. If you're out and don't have internet access, the smart watch also has an offline voice assistant for you to perform operations like engaging a sports mode or opening a health metric feature via voice command.

It's About the Journey, Not the Destination

The watch has a built-in barometric altimeter to help keep an eye on the altitude and air pressure of your outdoor activities, and supports GPS, GLONASS, Galileo, BDS and QZSS satellite navigation systems to accurately track your route.

Take a Dip with 5 ATM Water-resistance

The Amazfit GTR 3 Pro has achieved a water-resistance grade of 5 ATM(50 meters), so you can enjoy the sea or take a dip in a pool without worry.
Receive Bluetooth Calls

When you're out for a walk, working out, or seeing friends, you can leave your phone in your pocket. Through Bluetooth connection to your phone, the Amazfit GTR 3 Pro smart watch can receive phone calls.

Over 150 Sports Modes

The GTR 3 Pro smart watch supports 150+ sports modes and records effective sports data. It can also intelligently recognize your motions and begin recording related sports data, as soon as you begin any of these eight sports: Outdoor Running, Treadmill, Walking, Indoor Walking, Outdoor Cycling, Pool Swimming, Rowing Machine, and Elliptical.

Get A Sports Companion

Bored of running alone? Race against yourself by engaging the Virtual Pacer. The sports watch will display an icon to represent one of your previously-recorded runs, along with another icon to show your current performance, to give you a target to beat as you try to get better with every run.

Note: Virtual Pacer is only compatible with Outdoor Running and Treadmill sports modes.
Music Player on Your Wrist

The GTR 3 Pro smart watch allows you to easily control the music on your phone. You can even store up to 470 songs on the watch for independent music playback.

Classic Crown for Smooth Navigation

As convenient as touchscreens are, sometimes you need to move through the watch without your fingers blocking the screen or sliding across it after you've worked up a sweat.

The Amazfit GTR 3 Pro smart watch has a physical crown, elegantly crafted through refined CNC processes, for easy navigation that never gets in the way – just twist the crown to cycle through apps and features, with crisp haptic feedback brought about by the linear motor.

Vibrant Watch Faces & Always-on Displays

Match your mood, an outfit or the occasion with a wide selection of more than 150 stylish watch faces, all of which have a matching always-on display. Want a more high-tech feel? Step into the future and choose from 15 animated watch faces. Prioritize preferred features with 23 editable modular dials – or even upload your own photo as the background image for