In today's JBL Wave 200TWS wireless earbuds review, we'll share one of the best wireless earbuds around. The Wave 200TWS will give you all the freedom and advantages you'd want from a true wireless set. A touch from it allows you to manage both calls & music while simultaneously letting you interact with your voice assistants.
JBL included Dual Connect to it so you can utilise either earbud while saving on battery life. It's also extremely light and comfortable which is all thanks to its ergonomic shape and design.
If this is something you want to have to get enjoyable listening times, you're in the right place. Here in our JBL Wave 200TWS wireless earbuds review, we have all the details you'll need to know about it.
JBL Wave 200TWS Wireless Earbuds Packaging
Before we look deeper into the product, let's first discuss its packaging and its contents. And for this review, the Wave 200TWS that we have is the black-coloured earbuds. They look sleek and premium which is something usual for JBL products.
But if black isn't your thing, you can still opt for other colours such as white or blue. And no matter what colour you go for, these earbuds will still look awesome.
Similar to other JBL products, our Wave 200TWS arrived in your standard looking JBL package. It sports the usual colour theme while the front displays an image of the product at the centre.
Wave200 and other features of the earbuds can be seen on one side of the box. Then on the upper and lower-left corners, you'll find JBL's branding and Bluetooth positioned.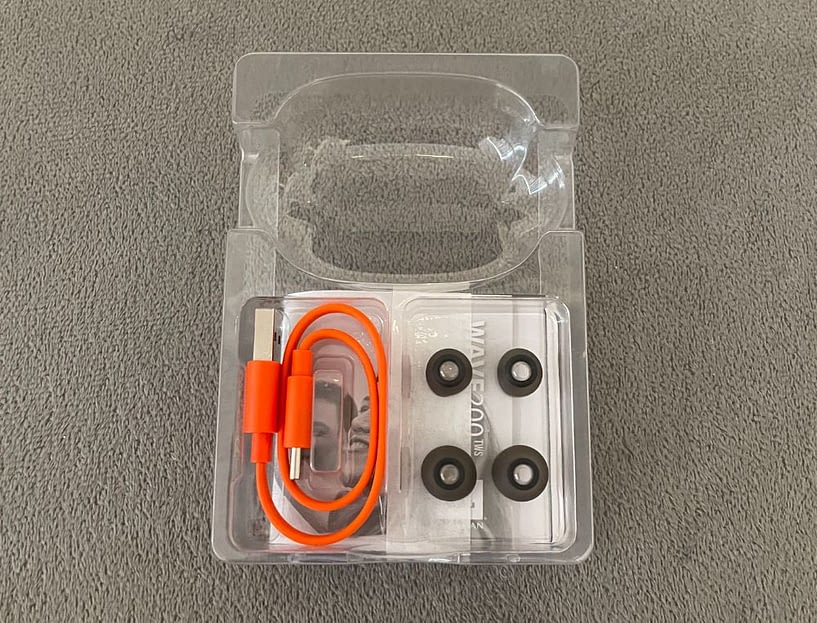 One side of the box displays another image of the product but at a different angle. You'll also find other details related to the earbuds along with it. For additional information about the Wave 200TWS, you can find a couple more of these on the box's rear.
Inside the box, the earbuds come with additional accessories like the charging case and a USB-C charging cable. We also appreciate JBL for including a pack of ear tips that come in three different sizes.
JBL Wave 200TWS Wireless Review – Design and Functionality
While working on our JBL Wave 200TWS wireless earbuds review, we learned a ton of things about it. These are a tribute to JBL's legendary audio sounds, and is also a notable expansion of JBL's True Wireless collection. It's named after its wave-like, distinctly ergonomic, and free-flowing style.
When it comes to its form and design, these earbuds are small and comfortable when worn. When slipping its case into your pockets, it'll fit perfectly just as well. Because of its portability, you can enjoy awesome-sounding music all day, no matter where you are.
Aside from being portable, the Wave 200TWS also sports an IPX2 rating. That means, you can wear it while working out in the gym, running, or even when it starts to drizzle. Additionally, the earbuds feature Dual Connect, allowing you to utilise one or both earbuds for music listening or taking calls.
The JBL Wave 200TWS connects easily. If the earbuds are already paired with your device, they simply connect once you pull them out of the case.
These wireless earbuds feature touch controls, so you won't find any buttons on them. With that, you'll get to easily and conveniently manage your phone calls and audio.
To answer calls or to hang up, all you have to do is make two taps on the earbuds. To mute when you're on a call, simply make a long press and you're good to go. If you aren't on a call and want to activate your voice assistant, just make a long press as well.
When it comes to music controls, playing/pausing your audio requires you to make one tap. For playing the next track, two taps are required while three taps are needed to play your earlier track.
Key Features of the JBL Wave 200TWS Wireless
We also looked at the earbuds' different key features for our JBL Wave 200TWS wireless earbuds review. So, we're sharing them to give you an idea of what makes it one of the best wireless earbuds around.
JBL Pure Bass Sounds
These feature the popular JBL Pure Bass sounds which are present in some of the renowned venues around the globe.
20 Hours of Combined and Enjoyable Playback
With a total of five hours in the earbuds plus 15 hours in the case, you're all set. The Wave 200TWS can keep up with all your rhythmic activities all-day long.
Dual Connect Using Either Ear, or Both: 
Dual Connect's power gives you the option to seamlessly enjoy your favourite tunes, or make calls with one/two buds. It's a convenient feature for your music listening and other audio needs.
Voice and Calls Assistant Using Touch Control
When creating our JBL Wave 200TWS wireless earbuds review, we learned that touching the earbuds allows for full control. With this, you can manage calls, sounds, and voice assistants while staying in touch with the world.
Comfortable Fit
The Wave 200TWS is ergonomically-shaped so it fits comfortably and perfectly in your ears. This is all thanks to the in-ear stick form, allowing you to have continuous hours of pleasurable listening.
Action Ready No Matter What You're Doing
These true wireless earbuds sport an IPX2 rating so the Wave 200TWS will definitely follow your flow. It doesn't matter if you're chilling or on-the-go, these earbuds will handle a bit of sweat or light raindrops.
Pocket Friendly and Portable Wireless Earbuds
Take the Wave 200TWS anywhere you go since it's discreetly lightweight whether it's in or out of the case. Not only that, but with its sleek and compact form, it's easy to slip into your pocket without feeling any discomfort.
Specifications
This section of our JBL Wave 200TWS wireless earbuds review focuses on the specifications of the Wave 200TWS. Let's see if its specs are perfect for your listening requisites and needs.
General Specifications
These true wireless earbuds make use of Bluetooth 5.0 while the material for its ear tips are silicone. When it comes to its driver size, it measures 8mm in total.
Audio Specs
The Wave 200TWS' driver sensitivity @ 1 kHz / 1mW is 108dB. For its dynamic range frequency response, it ranges from 20 Hz to 20 kHz. These earbuds have an impedance of 16 ohms while sporting one driver for each ear.